The latest artist to open at Gemini is the enchanting Trisha Rose.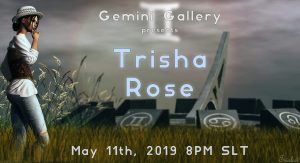 We have been admirers of Trisha's work for a long time, and she truly honored us with the way she showed interest in our job on the sim, providing the sim with some of the best photos in its infancy. She has the eye and unique sensitivity of the true artist, we knew it, but one thing is to see someone present beautiful views of locations in SL, and another is to…have the location be your own. Seeing someone capture the essence of a space you worked always feels a little magical to us, and the photo we used for the poster here is a fulgid example of it.
There is more, though, that makes this exhibition truly, amazingly special to us. Trisha used this venue and this occasion not just to do more of the same brilliant work she does. She took this as a challenge to step a litle away from her comfort zone, and display what she has not shown throughout the whole tenure on Flickr, and that she may not feel entirely confident to do. She brought her visual poetry to more explicitly erotic imagery. The results are pure gorgeousness, and we hope you will choose to visit before the exhibition is over: you may not have a chance to see some of these pictures again, and they show a side of the artist that Trish is, that has so much to offer.
In the twin building on the sim, still on display, you can admire the outstanding effort put up by Ayela.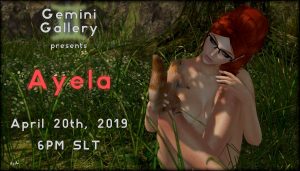 From the getgo, Ayela's pictures made me want to know her. Doing an exhibition with her would have been absurdly easy, I thought: there's consistency in her visual, which lends itself well to the structure of the gallery, and yet in her production she ranges from the introspective to pure, stirring erotica. But, that fascinating brain of hers was at work, and she made it even easier, even more stimulating, and flattering for us. She used the opportunity of having her first solo exhibition as a challenge to herself and a way to…how should I say it? Whip herself into creating more art! She did it with a precise vision of how it would all work with the gallery space, different themes running through. It was amazing to me to see the cerebral part of her at work, to produce such beautifully stimulating, crisp photos any gallery would love to have.
We thank Ayela for what she did, and we hope the effort she put in the exhibition helped her in the continuing journey of her SL. She has so much to offer.
The gallery is currently located on its own sim, Gemini! It was a labour of love with Vicki and I setting up to give a new home worthy of the previous. Visit us right here!
http://maps.secondlife.com/secondlife/Harvest%20Moon/32/129/23