The latest artist to open at Gemini is the delectable Cheryl Reddevil.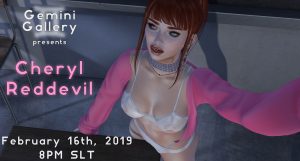 The wonderful Isabelle Cheviot, as many of you know, runs one of the most interesting and inclusive blogs in the adult 'showbusiness', and I was fortunate enough to be tasked to help her with a project called Fellatio Friday. So I have every week the enviable task of going through a few dozens of pictures showing all sorts of oral shenanigans. Makes for interesting dreams! My point is, it was during the first weeks 'on the job' that I stared into Cheryl's eyes for the first time . There was a sense of craving and playfulness, a way she would just look at you , through and from the photos, that is the essence, in my view, of photography. Photos that may be firmly planted within that imaginary line that marks the boundaries of 'pornography', but that look at you, talk to you in a way that is typical of what we'd call Art.
Cheryl's artwork does just that .She is one of those models I never tire to see and that changes her looks in subtle ways that yet allow to wear many hats. Being able to put her creations, and her, on display is an opportunity we relish.
In the twin building on the sim, still on display, you can admire the outstanding effort put up by Rachel Avro.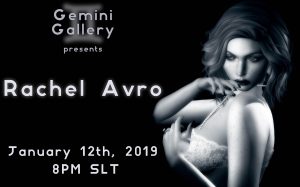 We had a few artists who truly challenged themselves to prove their worth of holding an exhibition. It is not something we ask, as we already invite those who captured our interest for some aspect: showcasing their existng body of work is already both a privilege for us and an operation that makes sense considering the unique way photos show when experienced in 3d. But still, artists have their vision, and the idea to hold an all original exhibition with a fil rouge is stimulating for their creativity. Well, Rachel surpassed any expectation.  Her black and white exhibition involving about 40 different models is the proof of the fertile mind of an artist in full blossom, who perfected the art of shooting in black and white – something that gives that unique timeless aura to the subjects' beauty, a quality Rache herself embodies so well.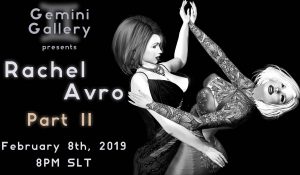 We had to do a double display, and for a week you got to admire both phase I and II of Rache's display at once. She holds the singular distinction of being the only artist who had both our galleries taken at one point in time. Congratulations, Rachel, you truly deserved it!
The gallery is currently located on its own sim, Gemini! It was a labour of love with Vicki and I setting up to give a new home worthy of the previous. Visit us right here!
http://maps.secondlife.com/secondlife/Harvest%20Moon/32/129/23