The latest artist to open at Gemini is Zoe Willows.
Zoe is everything we love in a photographer. What you see in her creations is pure skill at work on multiple levels. In reverse order: flawless editing, intriguing and expressive lighting, original composition, lifelike details, larger-than-life characterization and last, I mean, first but not least, a brilliant vision. Zoe is equally adept at showcasing in the most natural way the material from her blogging sponsors and the kinkiest erotic fantasies.
In a neon-bright future, in a shamanic past, in a present time of flesh and pulsing blood, or in some magical elsewhere of pure forms and colors, Zoe always is in her element and pulls the strings knowing oh so well which effect she wants to get and what side of her she will use to get to you. We are truly honored to feature a sample of her feats, including also the trinity, err, trilogy of original, exclusive photos she did for this event, called 'Share Our Sin'.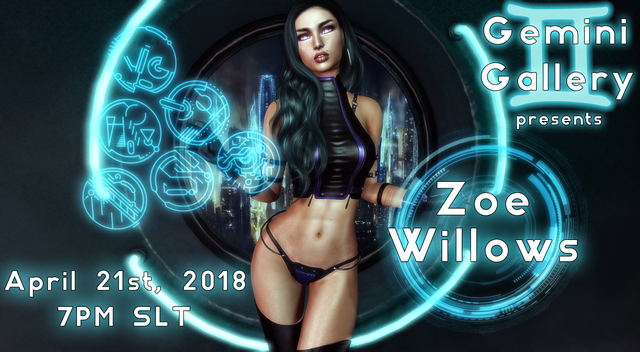 And, we are happy that we get to pair her up with one person very dear to her, and to us both! We are talking about one of the stars of Gemini Studios' award winning movie Lustworld: April Jestyr.
April is someone quite personable and easy to warm up to, but also displays a strong and one-of-a-kind personality in her art. Her journey as a SL photographer has started only recently, but she instantly showed she knows the way to strike the eye, capture the imagination and never be predictable. Qualities we love in an artist and that get her noticed so easily. Since her debut for Gemini she has also been featured in yet another exhibition for the Forbidden Fruit Gallery. Her photography, so dynamic and vibrant in both colors and angles, is a real hit. Enjoy the last days of her exhibition!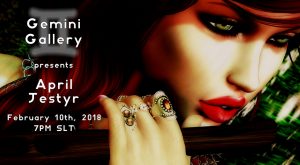 On the amazing Mirage Sim, there's much for you to admire, including Nicasio Ansar's latest ' The Rooms ' project. Visit, and you won't be disappointed!