The latest artist to open at Gemini is Parthenea, or as we all like to call her variously doubling up on letters, Partee!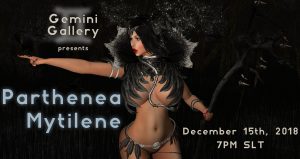 A lot can be said about Partee, and shockingly enough, it's all positive! I don't just mean it in the context of this small paragraph of presentation here on the blog. Partee has worked with almost every photographer in world of adult arts, and everyone has nothing but good things to say about her. Well known and followed for the intrinsic 'notable features' of her gorgeous blonde bombshell figure, capped by the intense cerulean eyes and perfect makeup with cherry red lips, her flickr stream is far from being a self-love fest. This blonde brainiac bimbo does so much for the community. Not only she makes sure to include in her highly followed stream group photoshoots with several models that have become somewhat iconic, but there's her extraordinary work as fashion editor for Attention magazine, where she leads monthly interviews and photoshoots featuring premiere brands in SL. She singlehandedly shot 70 models for a single spectacular swimsuit issue, for crying out loud!
Partee has a passion for stories: she has a truly encyclopedic knowledge of virtually every branch of literature, spirituality, arts and you can truly see in her photography the same amused and amusing verve you get when chatting with her at a party she casually drops a clever reference to IT lingo, a movie from the 50s or the periodic table (it happens!). Organizing an exhibition for and with such a talented artist is always fun but difficult at the same time.  Vicki came up with the idea to focus on the fantasy themes explored, and Partee accepted enthusiastically. Well, she always sounds enthusiastic. It's kinda her thing. But if you take a look at the original work she did for this exhibition, you will be absolutely enthusiast about it as well, we're sure!
In the twin building on the sim, still on display, you can admire the artwork of Vixxen Rainbow.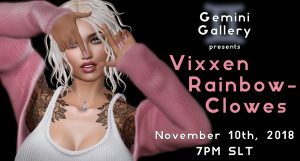 She's always been a woman of unbridled fecundity from an artistic, and erotic, point of view. The first brush with her personality and inspiration was years ago, being part of a project that to this day seems to have no heir in the world of porn. The blog she had with her partner at the time featured incredibly detailed – but fluid and compelling to read – stories, and some had the wildest scenarios you can possibly imagine, or not. And it all came to life in photos, thanks to Vixxen. Making extensive use of ad hoc alts and mesh avis, Edenfell was a real blast and something so unique. Many moons have passed, and the partnership she later cemented with the demonic Daimaju Clowes is one of best you can picture – no pun intended.
Vixx got herself a spanking new computer and life (and her photos!) look better than ever! She accepted with enthusiasm our invitation, and we are very happy to have her, at a point of her personal history that we hope she can remember fondly for years to come. Welcome to Gemini, Vixxen!
The gallery is currently located on its own sim, Gemini! It was a labour of love with Vicki and I setting up to give a new home worthy of the previous. Visit us right here!
http://maps.secondlife.com/secondlife/Harvest%20Moon/32/129/23