The latest artist to open at Gemini is Faith Darrow.
Faith was a natural choice for an exhibition at our gallery: from the beginning it has been the intended goal at Gemini to let visitors sample in a high-end gallery framework a taste of the production of personalities who are very well known in the so called adult entertainment scene. I said 'personalities', and certainly Faith has plenty of that! In a recent interview for the Peaches N Cream blog by adult film star Alexandria Topaz, Faith gave this very quotable quote that made me smile.
" I mean not to sound overly conceited but anyone who has seen me knows how hot I am."
Faith is not (overly :p) conceited (and I invite you to read the interview from start to finish to easily understand how actually level headed and grateful, even -gasp- humble she comes across as), but she is confident. She projects that sort of aura that naturally draws people to her, and her avatar is tailored for that. She shows it brilliantly in her patented Domme style of looks and poses, but also in the more candid shots the collection shown at Gemini is composed of. I am sure you will enjoy taking a look at her production – which, as a first for us, will also have a 'slideshow' section. That's because a presentation of Faith's body of work would have not been complete without aknowledging her 'Tentacle attack' series that spawned, er spanned across 2017 and early 2018. Almost every girl (not just them tho!) in the SL 'porn' community has been involved in it, and somehow, I can't think of any better person that could run a 'mainstream' tentacle porn series than Faith Darrow! Outside of Japan that is…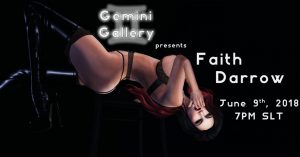 And still on display in the twin building, we have another true mistress of the dark in Aria Horan.
I have been following Aria's photography for a long time, intrigued by her very characteristic way to light a scene, with an instantly recognizable sort of hue and atmosphere in what she called in an interview we did for another blog 'combat photography'. What you look for when you are curating a gallery exhibition and when you are an editor in a blog like" the Sexiest® Pornstars", is different. I have always had a passion for lenghty sex shoots when they tell a story or simply keep a consistent mood through : the diachronicity of an intimate encounter together with each single snap highlighting the parts of the act and the bodies in all their glory. Aria's photosets were simply amazing in that.
She still enjoys doing those sets, but her once purely 'in the moment' approach makes room to the opposite of that. A talented builder eclectic in inspiration and with a talent for setting the stage, she makes it all work bringing to life memorable representations. The combat photographer has blossomed into an artist that captures exotic and iconic characters with the same vibrant strenght you'd see in the works of pop art she shared with the public in the past through gallery work, from Dali to propaganda posters. Just the fusion of genres you can expect from a cultured western girl living in Thailand..oh, not really. You never know what to expect from her. Except, maybe, shadows.
The Shadows know.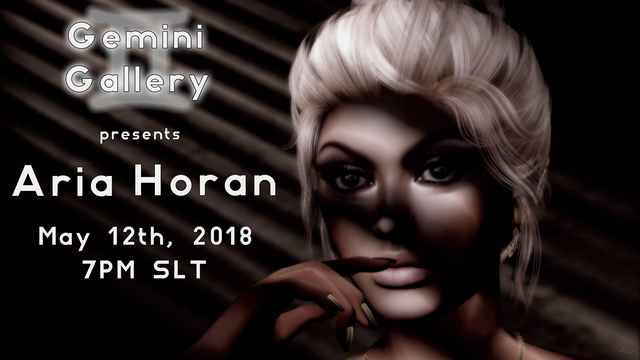 On the amazing Mirage Sim, there's much for you to admire, including Nicasio Ansar's ' The Rooms ' project. Visit, and you won't be disappointed!