The latest artist to open at Gemini is April Jestyr.
When Vicki showed April the gallery all set up with her photos the night before the opening, April joked about it saying something along those lines (this actual line, but I am making myself sound like a brainiac and not just copying and pasting) "I think everything looks good. Not enough time for me to get good at photography and learn how to edit before tomorrow night. :)".
April may be dismissive of her own talents, but they are strong, atypical and ever growing. Also they span across areas that you can't immediately see now, but let me just say, she's not halfway done surprising us.  I am particularly impressed by how well her digital creations show in the Gemini building. April is someone quite personable and easy to warm up to, but also displaying a strong and one-of-a-kind personality in her art. Her journey as a SL photographer has started only recently, but she instantly showed she knows the way to strike the eye, capture the imagination and never be predictable.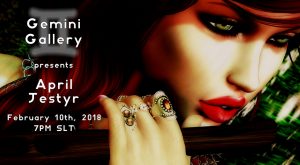 In the twin building we are still running Talisker Braveheart's exhibition.
Talisker was a natural choice for a gallery exhibition from the start: he's such a surprising artist. First and foremost, he's a character. He built a persona instantly recognizable and whose tales you want to follow. Talisker excels at creating visual gags, bring to life unpredictable situations, play with the overtly blasè viewpoint of this grey-haired fella who loves fishing, drinking, and of course, women.
Already photos of this type elicit admiration for the ingenuity of the in-world creation, but Talisker is not just a man of funny vignettes he is smart thinking of and crafty setting up: there is space in his active imagination for the adventure, and sensual, dark images, one of which just happened to win this year's edition of the SX Magazine Awards for Best Explicit Photo. We appreciate having a selection of his artwork at Gemini.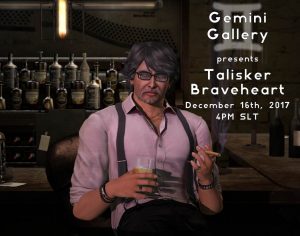 On the amazing Mirage Sim, there's much for you to admire, including Nicasio Ansar's latest ' The Rooms ' project. Visit, and you won't be disappointed!