The newest artist currently showcasing on Gemini is Tatiana Alexandra.
Tatiana has diverse, dynamic interests, and her photography reflects it. Can't help but being intrigued by the different looks she shows. Some sources of inspiration are easy to see. She is a DJ at heart, and her life behind the console is a big part of her inspiration. She is adventurous and a huge fan of the work of renowned artists like Boris Vallejo and Luis Royo – and you will find the unique blend of bustling vitality and ethereal atmospheres in her fantasy creations. But you can also get more than a taste of the life of magazine model Tati, and Tati the car designer – what a combination! The hat she wears perhaps most proudly these days though, is the one of Surfer's Bay lifeguard – and once more we thank the wonderful community for their support.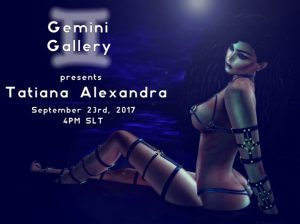 In the twin building, the exhibition of an artist truly close to my heart, Lylah Landar. Outside of our professional collaborations for magazines and blogs, we have never hanged out. And yet I can truly call her a friend. Her warm personality always shone through, and she has always been a delight to work with. Dependable and enthusiastic, I owe her gratitude and I greatly admire the screen presence she has, how consistently beautiful she has been, and… the puzzle she presented to Vicki and I when it came to picking our favourite shots. Talented!