The latest addition to our lineup of artists is Iris Okiddo.
And Iris is SUCH an artist. I had the pleasure to get to know her when she was so very 'young' on the scene, and she already was an artist back then. When she was not accustomed yet to a lot of SL and its unique conventions. When she was full of questions that would end up making ME question situations and responses we mostly take for granted.
Pablo Picasso once said: "Every child is an artist. The problem is how to remain an artist once we grow up."  Iris grew leaps and bounds in her skill, her photos speak for themselves. But she still asks questions, and still has those questioning, serene eyes. Up here, boys, up here!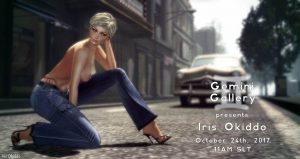 In the twin building, you can still admire the artwork of Tatiana Alexandra.
Tatiana has diverse, dynamic interests, and her photography reflects it. Can't help but being intrigued by the different looks she shows. Some sources of inspiration are easy to see. She is a DJ at heart, and her life behind the console is a big part of her inspiration. She is adventurous and a huge fan of the work of renowned artists like Boris Vallejo and Luis Royo – and you will find the unique blend of bustling vitality and ethereal atmospheres in her fantasy creations. But you can also get more than a taste of the life of magazine model Tati, and Tati the car designer – what a combination! The hat she wears perhaps most proudly these days though, is the one of Surfer's Bay lifeguard – and once more we thank the wonderful community for their support.