The gallery is located here: http://maps.secondlife.com/secondlife/Harvest%20Moon/113/129/26
After a year in the beautiful frame of our friend Nicasio Ansar's sim, Gemini moved on to its own region. We made more locations to bring 'more' to the community you built with us: several unique party venues, hangout spots, surprises to stimulate your imagination and creativity .
We have the Gemini group on Flickr for uploading your photos taken on our sim. Follow us to receive updates!
And we have a website, at…er, ok, you are looking at it now. But you can follow us there too!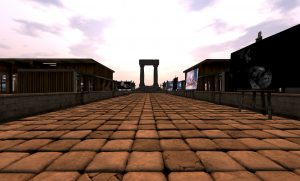 We keep a regular party schedule with several surprises. Look for the black boards with the Gemini sign and join the update in-world group. It does not take a group slot, and only sends you the odd notification about particular events.
Have fun exploring when you are done taking a look at the pictures!