We have the pleasure to greet a new artist here at Gemini. With a Happy Birthday song, even – that sort of fortunate coincidences. The artist this time around is Tatiana Alexandra. Tati is without a doubt a versatile talent: an experienced DJ and magazine model, she happens to be a heck of a pilot and 'mechanic', having built over 60 vehicles, many custom fit for special occasions and tailored for her many friends.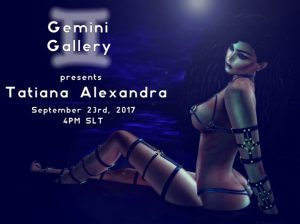 Needless to say, what we focus on for this exhibition is her photography – but you will see quite a few of her passions expressed in her art. We had a lot of fun getting together with her to organize this, and we are sure it will be apparent once you visit. When? Try 4 PM SLT , this Saturday September 23 ! We're going once more to have the excellent tunes from our DJ HaileyMarie Redrose, and it will be another fun party.
Thank you everyone for the great support shown, and remember that we greatly welcome your feedback, for this new exhibition and the one from Lylah Landar still showing in the twin building!