About time to have a new exhibition at Gemini Gallery, right?
If you wondered what have been busy with since the latest opening party, you may want to check out the Gemini Studios section, through the bar at the top. The first movie production left us quite pleased to say the least, and we thank you for your future feedback – we already received a kind of support that left us absolutely overwhelmed. Thank you.
Enough with movies though…even if we are somewhat in topic, as the artist featured for this end of 2017 is an award-winning SL actor and one of the funniest 'sketch-comedians' you can meet through photos.  We are talking about Talisker Braveheart.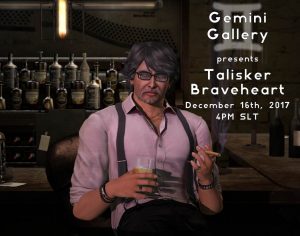 The party is taking place this Saturday, December 16th at our favourite slot, 4 PM SLT.
Nica will be our DJ! Some of you know him just as our kind landlord who doesn't complain about the loud music, but I could write about his talents for ages. His new project, 'The Rooms' is getting well deserved attention, and will inspire many artists and all-around kinksters.  And it's in the same sim as our gallery!
See you at the party!