After our very busy July, we are taking a break in August…NOT, of course. We have a new artist debuting with an exhibition, and her work is surely worth it . We are proud to announce for today August 15th at 8 PM SLT the opening of a gallery show featuring Katya Ansia.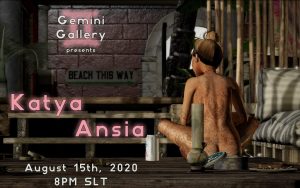 When we talked to Katya in late Spring for a solo exhibition – she previously only contributed with her exquisite photography to collective efforts – she came up with an idea ridiculously simple and yet quite stimulating. We have been always happy to blend new exclusive creations with a showcase of their established body of work but, as you know, numerous photographers feel compelled to put on the walls exclusively original photos. It has everything to do with inspiration and an organic artistic vision, and sometimes the love for a challenge. Or we've just been extra lucky, who knows! The drawback -for them- is that it is time consuming, which forces the artist to go 'silent' on Flickr for weeks sometimes. Katya's intuition was brilliant: she has been working for this gallery all along these past weeks, but you did not notice it. She created photos with the exhibition in mind, published some…but what you have seen on Flickr, was just the beginning of several photosets. Ta-dah!
Join us today at 8 PM SLT to experience what you saw just a hint of on flickr: photos you may already have seen and fave'd reach a whole new dimension of sensuality and eroticism with the sets they were were always meant to be part of. Our Sexiest® DJ-ane Zuby Gloom™ will bring her tunes for another gallery show that hopefully will stimulate you in more ways than one.
As for now, knocking on wood, we have a full line-up of artists for the year, but we have several other art-related initiatives – and things in SL keep being very fluid, so we are always open to your suggestions and art related proposals. Well, other type of proposals too, wink wink?