Time to feature another artist at Gemini, and for this month we are delighted to showcase a proud Texan and a true gentleman who knows when to return panties to a lady – no really, there's a story about that . Join us tonight October 10th at 8 PM SLT for a gala featuring the artwork of one Brodie Cole!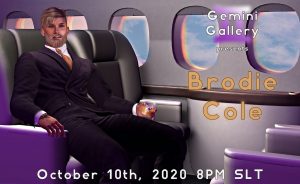 Brodie brings to the table a great look and versatility in themes: he's very much of a team player with strong friendships, a gorgeous and equally talented partner in crime and an eye to showcase models both in glam shots and 'in the act'. And when he focuses on himself, he is quite believable both as a smart- dressing high roller and as a ruggedly handsome fella who could have easily just gotten out of a tractor – or a Drakkar longship! We have entertained the idea to organize an exhibition with him before the summer, and  then settled for October to match his birthday month – which seems to be a trend for several artists! Trust me, if you want to have an unforgettable birthday party you should consider it: much better than doing it at McDonald's and having to deal with junk food and creepy clowns.
Join us tonight at 8 PM SLT to admire Brodie in several new , never seen before shots and a selection of flickr work – each with some fun stories you will hear from him, I am sure – and the tunes of the wonderful Zuby Gloom, as per tradition.