It's the big day for us! Gemini gallery officially opens its doors, and does it with an artist very dear to us personally and that embodies many of the qualities we love in SL photography.
My unofficial title for this exhibition would be "The many faces of Racheal Rexen": as you will see through this small selection of her body of work, she brings sexiness, fun, and you'll never know what cute look she'll play with next!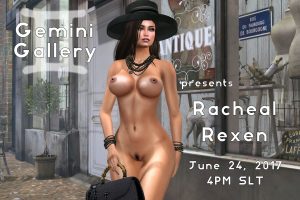 As you can see from the poster (based on a gallery exclusive picture, "Window Shopping" ), the opening party for this exhibition takes place at 4 PM SLT today June 24. DJ HaileyMarie Redrose will play the tunes.
On the twin building, a selection of photos from Nicasio Ansar, our incomparable host at the Mirage sim and the owner of Mirage Gallery, which represents a standard of creativity and out-of-the-box thinking we can only hope to come close to some day. We set the exhibition up as a test for the building placement and lighting, so we thought to leave the photos in place there!
We hope to see you at the party later!