Time flies, and we are thrilled to have the chance to welcome a new artist at Gemini. It's the turn of Lylah Landar.
Lylah holds a special place in my heart. During my tenure as editor for Aroused! Magazine, Lylah had been a real gem of a collaborator, full of enthusiasm for her projects, and always bringing her A game. The sensuality she can put in her photography is truly amazing: there's something magnetic about her presence.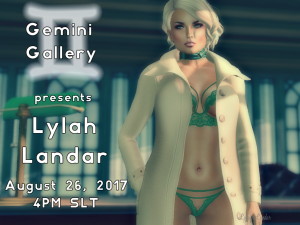 Featured in this exhibition some (and it was a truly tough choice!) of her best previous work plus original material. And you will get to meet and greet this delightful girl today August 26 at 4 PM SLT for the opening party.
DJ HaileyMarie Redrose is scheduled to make us all dance again. Don't miss a chance to be there and have fun at an event with wonderful eclectic music, exquisite art (also still showing: Simone Landers) and, judging from our previous parties, the best crowd ever!