First of all, thank you for the support and feedback on our previous exhibitions and parties, not to mention the first (hopefully of many!) project by Gemini Studios. Just before Valentine's Day, here's a real sweetheart for you on display at the gallery! You may remember her from Lustworld, certainly you will recognize her in her photography, in her unique vibrant style. We are talking about April Jestyr.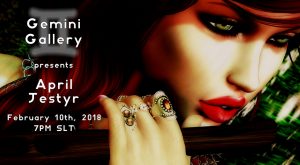 April's photography lends itself perfectly to an exhibition in-world: her adventurous spirit and instinctual approach to camerawork and composition truly makes her photos stand out when they bedeck a room. Be surrounded by her art , but most importantly, come and have a great time partying with her today February 10th at 7 PM SLT.
The humble sire of the wonderful Mirage sim itself, Nicasio Ansar, will be again our DJ for the evening. You can still admire the very special work of Talisker Braveheart on the twin building. Both April and Talisker have been valued collaborators in exceptional magazines these past months, and it's so easy to see why!