We are back for a new exhibition, and new adventures! The volcanic demiurge Nicasio Ansar has been focused these past months on his amazing project The Rooms, a conglomerate of wonders in the sky of the very same sim Mirage sim that hosts our gallery. He turned back his attention to the landscape in this timeframe that leads to the new artist showcase we have been planning. Long story short: for this new exhibition, you'll see an all new Gemini Gallery building, in an exclusive custom build by Nica! I don't know what to say. Actually, I do: I have to tell you about this new artist we feature! Zoe Willows!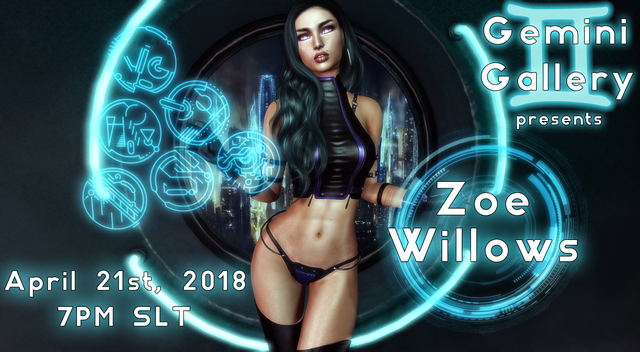 Zoe Willows is a truly outstanding talent. She's incredibly fun to chat with, she's naughty, she's whimsical: truth is, she conjugates all this lighthearted spirit with one of the most professional attitudes about her work we have ever encountered, both when it comes to make it and to promote it. We feature in this exhibition a selection of her work, plus no less than 4 gallery exclusives, part of the original series 'Share Our Sin'.
Don't miss the chance to have an entertaining (we can guarantee it will be!) encounter with Zoe at the official opening, which will be today April 21st at 7 PM SLT. Our dj will be once more HaileyMarie Redrose, and April Jestyr's artwork is still on display in the all new setting of the twin building.