Since our reboot in the new building, we've kept busy with parties, and making more use of the wonderful sim we are in. We thank you so much for your partecipation at yesterday party at the club, and we have lots more to come. Today, we invite you to attend another one of our 'classic' events set at the gallery: the opening for a new artist. It's the turn of a clever woman, a strong personality, and a bit of a mistress of the dark ! We  are talking about Aria Horan.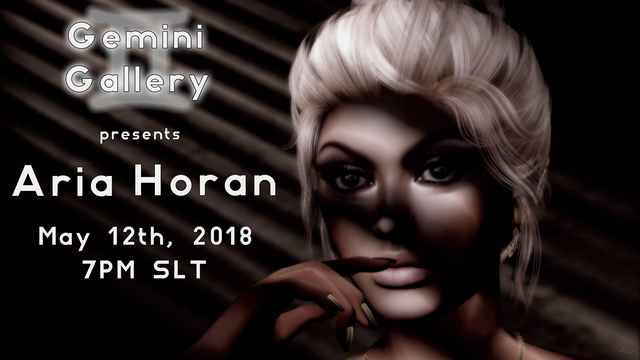 I am sure I am not saying anything ground-breaking when I point out that Aria makes use of shadows like no other: her photos are a dream to display, so instantly charming and evoking sensuality and intrigue. But from this showcase we hope you'll be able to catch also a glimpse of her brilliance in the erotic homage to particular historic and folkloric figures, and the way she brings to life exotic locations.
We like to pay homage to her art of this lady starting with the opening party, set today May 12th to begin at 7 PM SLT. Our DJ tonight will be again HaileyMarie Redrose! Come over, enjoy the fun surrounded by the artwork of Aria , together with Zoe Willows' work still on display in a contrast of styles from two of the most inventive artists we have had the pleasure to show off!