I said it last time for Zoe Willows, this is totally NOT the official title of this sort of event! In fact, everything about tonight's event at 8 PM STL will be fresh, fragrant and quite sharp! So yes: it's time for a round 2, or rather II, for one of the artists featured at Gemini. Last time around, Zoe debuted a variety of new and exciting photos that were worth an encore of her release party with even newer material. The so very juvenile 'working title' of the event was born during the party banter with her. And  this time, it's Aria time!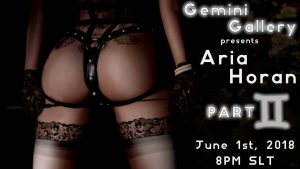 Today is the day of the release of SL Unplugged, one of the best adult magazines on the scene. With an amazing lineup of photographers and models that are virtually a lock for Gemini or we had the pleasure to cover already in previous galleries, this issue of SL Unplugged features original work from Aria at her erotic and exotic best. We put on display at the gallery special alternative versions of a few photos that were cropped for the magazine edition and you'll see even more tonight at 8 PM SLT for our party!
And the DJ will be …..Aria herself! Aria is a vastly experienced DJ with a song repertoire in the 6 digits figure and she just can't wait to share not just her visual arts but also this part of her talents. 'Time to give gemini the Funk!' as she put it, and we have no objections! See you tonight for another party Gemini style!