It's time again to  put new photos up at Gemini, with a new artist! Someone who has seen it all, done it all… but tonight June 9th at 7 PM SLT she's a lil virgin, just for us, as we pop her exhibition cherry! We are talking about someone who knows how to turn heads and twist bodyparts, the tentacular Faith Darrow.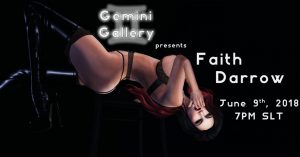 We are pleased and excited to have her art on display, and we look forward to the opening event. Faith is a character well known to the pornstars crowd to be the life of the party with her quick wit, merciless snark and black garter belt in Google-fu, intriguing to meet and interact with and a sight to behold! Plus she has great tits…Okay this post is going downhill quick as the excitement intensifies! I'd better just remind you once more : we're partying today June 9th, at 7 PM SLT! Don't miss out: parties are always a great chance to network and meet others, but with the Gemini Studios parties there are additional opportunities being offered. We still look for quality party photographers, and welcome 'printable' comments and feedback, and when I say 'look', i mean it also in a business capacity.

See you at the party!