Today September 14th, at 8 PM SLT, it's time for another event we have been really looking forward to!
The incredibly erotic (her sexy movies are even available on VHS tapes!) Zuby Gloom will give to a happy crowd of her admirers what she has been saving up, showing everything she's got! You too, come over tonight for some Sloppy Seconds you'll never forget!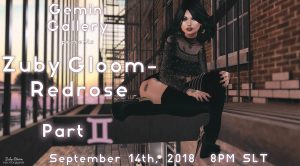 Okay, really, it is not the name of the event… As usual there's nothing sloppy about Zuby's work, and this additional party was fully planned from the very beginning. In case you missed the previous 'episodes': we have opening parties with our featured artists on the second Saturday of a new month. But since we hold parties every Friday too, we offer the artist the possibility to do also a 'second' opening show, featuring more never-seen-before photos that add to the exhibition. Zuby has been simply great, and took so many of the photos also on our sim – not to mention, she took an entire photoset featured on the latest SL Unplugged magazine.
This 'round II' of her exhibition is almost entirely a new one: not only you'll see many pictures not yet published, but also the selection of works from her flickr was entirely revamped with different choices , just as gorgeous as the previous – heck, one of them is even an award winning one!
Today, 8 PM SLT, don't you miss it !