And the big day is here! Grand opening and all! New artist, new exhibition, the official monthly party starting 7 PM SLT, at Gemini!
It's time to fire off Vixxen Rainbow's amazing display!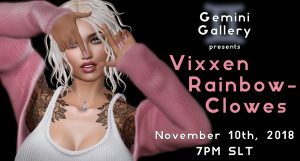 A mix of naughty and nice that would deserve another x in her name, Vixxen is entertaining and creative in her artwork. We have a soft spot for artists who use colour well (how could she not, with a name like that?) and have a wild imagination. You never find a dull photo from her. On the extracurricular side, she's got a hot bod, a lovely face and one stud of a boyfriend! Yep we're shameless like that, it helps. :p
She's going through a happily busy phase of her life, she's facing it with new hardware that only improves the lively gorgeousness of her shots, and we couldn't be happier to bring her pictures in world here at Gemini!
Swing by for her party, which will start at 7 PM SLT with the tunes from Hailey!