Today, November 9th, is Friday. Which means, at 8 PM SLT at Gemini it is party time! Which already should motivate you to join us. For all the exhilaration and debauchery typical of the weekly Sexiest® Group bash hosted by us and with the tunes of Hailey and Zuby…but, we have an added attraction! Yes, it's time for the first dibs on Stacia Reinoir's Totally Unofficially Called Sloppy Seconds !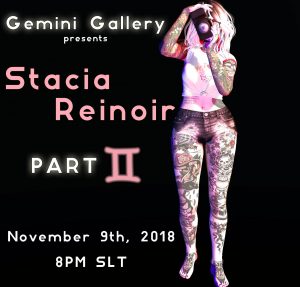 We are always so overjoyed to bring a phase 2, ehm II to one of our exhibitions. For those who are not familiar with the concept: our exhibitions typically last 2 months, with new artists taking turns debuting the second Saturday of the month (hey, that is tomorrow! Yes , we'll announce that too…). However, an artist never stops creating, and a few solid walls can contain only so many photos. That's why for certain photographers it is possible and advised to shake things up and host a different, fresh batch of their artwork, with another full month of the rotation to go.
Stacia is obviously one of them: come to the party tonight and not only you'll see new original pics she created, including a rather sneaky one that chronicles her presence at our location….you'll in fact see a whole new exhibition. Which means, you have just hours to experience her photos in world the way they are now. Make sure you do before you join the party, when we will unveil the new show. 8 PM SLT. Do not miss it!