New month, new artist at Gemini. And what a special one for us! Today March 9th, join us at 8 PM SLT for a party celebrating the photography of a name familiar to those who have been following us: it's HaileyMarie Redrose!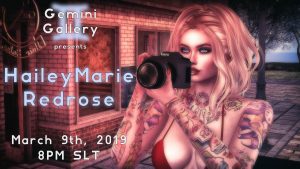 Who, the DJ? Oh yes. Hailey has been our go-to maestro since a long time now, but she is an individual with mercurial talents. A RL videographer who dabbled in the discipline in SL as well, Hailey is responsible for the design of The Minx Den, an unforgettable speck of the 80s in our sim. The eclectic and colourful retrowave style is an undeniable part of her aesthetics, but she has an eye for a classic sensuality as well. What made us decide to do an exhibition with her now, is that she has been doing a series of pictures called Boudoir Dreams, making ample use of our sim. The least we could do with such a lovely display of different corners of Gemini was…having an exhibition at Gemini, of course! But you will see much more than that tonight, when several exclusive photos will be unveiled. They are some of the most impressive original work done for the gallery since its inception, and truly make the best example about her skills as photo editor, originality as artist, and are quite frankly just so sexy and fun!
Enough building this up, you gotta come over and see it all. Please, join our ranks at 8 PM SLT  today, with Zuby Gloom-Redrose as DJ.