We love movie parties! We can't have enough of them – seriously, if you do a video in SL, we know how big of a task that is, throw a party for it ! We can help , so contact us! Anyway, we do, and we are thrilled that our good friend Isabelle Cheviot of Dog Star Productions asked us to help with a celebration of her latest directorial effort – Wicked Summer !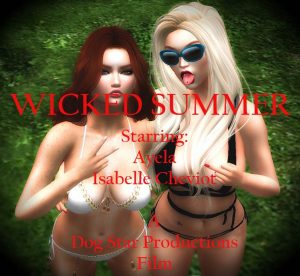 I couldn't talk about this movie without mentioning the impressive cast! Starting with the leads: the gorgeous Ayela, who we all appreciate as photographer and model, has quite the star role in this, matching blow for blow – pun intended – a veteran (I did not just call you old, Isa!) like Isabelle Cheviot.
The movie is a LOT of fun. So many different sex scenes for every taste, and in many different combinations, including some of the best group scenes I ever had the pleasure to see.  Over 30 people have on screen time in this, and they got their share of the titillating beauties on the poster. So a big thank you to Larry Vinaver, Ivan Yerkinov, Heathpantyboy Miggins, Daxie, Britney Lexenstar, Maximus Morningstar, Talisker Braveheart, Arcangelo Hellman, Isla Grace, Holly Manx, Celith Wendt, KayDee Sommers, Salathiell, Monique LeFry, Tessa Hale, Jessika, Della Morta, Ali Fox, Curty Dovgal, Stephanie, Tammy Jones-Pinedo, Annie, Saulo, liddlebit, Carter Holloway, Mark Steiner, Logan O'Leary, Nuur, Cykes, Petrova.
We party celebrating Isa,Ayela and the full cast today at 7 AM SLT , with our friend Zuby Gloom-Redrose as dj.