We are happy to celebrate Easter with you with a delicious treat which made for a wonderful surprise also: today April 20th at 6 PM SLT (yes, a little earlier than our usual slot) we debut a new artist in an all new (and almost all nude)  exhibition : our featured artist just turned one year old in SL and it's Ayela!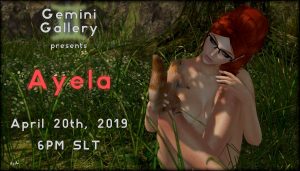 I have courted this delightful redhead for ages, and yet she is so young in SL! Fun and quite approachable as she is, this girl is one of those overthinking artists you are never sure they are going to believe their own hype juuust as long as it takes for them to take that spotlight they deserve. Sometimes I wish that organizing exhibitions with people (and people we know are appreciative of our work on the sim) were as easy as simply telling them "We love your pictures, let's do this!". An exhibition is part of a personal journey and you need the right circumstances and timing. The timing was finally right, and this exhibition spurred her to put her crystaline talent to good use on a  project she meticolously planned (…for the most part!), which ended up involving 22 models for 22 previously unseen photos.
We are thrilled to see this sort of effort and inspiration!
And we'll be delighted if you join us tonight, 6 PM SLT. A little earlier, for a party a little different than usual : our dj for the night will be a personal friend of Ayela (and of many of you, because, oh she's friendly!) and certainly a big motivator and inspirational figure to many , especially if with a pervy mind and/or with a cute butt. Sparklebottom Lasertits ! Join us for a Happy Easter!