We are once more very happy to help promote on our sim a cinematic effort, and this time it will be from one creative duo who many of you know and always wanted them to make an appearance at Gemini. We are talking about Laura Richards & Severina, the minds (and legs!) behind the notorious Debauche dance troupe. And together, they are Wowtastic for their first full feature lenght movie, His ! The premiere will beging tomorrow Saturday April 27th at 8 AM SLT.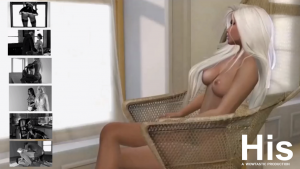 As keen as we are on photography displayed in world and believe in the importance to experience the art in a proper space and meet and celebrate the artist, we feel even more strongly about the -necessity- of movie premieres, especially when they cap such impressive undertakings. "His" is a movie with an XXX content but filmed with such a love for a stage-like setup and filmaking in its nuances (and for its subject, in a way!): the deliberate pacing makes for stunning images, in a very inspired photography that switches meaningfully between color and B&W (which we all know is a specialty of mrs. Richards). I'm exploring a little more of the movie in an interview published tomorrow on The Sexiest blog, but you'll get an even better feel of it by coming to the premiere!
Remember, 8 AM SLT. Our dj for the event will be Geordie Richards, a natural choice for this big day.