And for our monthly gallery feature, another coup we are so proud of. Join us today, May 11th, at 8 PM SLT, to celebrate another oh-so-new display, all original and never-seen-before photos from an artist with a graceful touch that brings pure visual poetry  back from her explorations and adventures. We are talking about Trisha Rose, for an exhibition she called "A Taste of Erotic".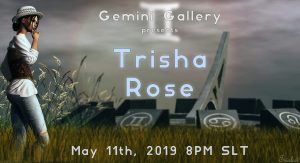 We had our first lenghty chat with Trish at one of our openings, in fact at the last party at our previous incarnation. We connected right away and she has been so supportive of our work as gallery curators and of our sim as we just started. Beautiful Trish is an accomplished artist with a following on flickr, she is no stranger to have her photography on display, but somehow, she has not quite put 'herself' on display, not fully, not like you will see her today. We are always thrilled when we manage to offer something new to our visitors, and push an artist to live the gallery experience as such: an experience, a journey, motivated by an idea, a purpose. We deeply thank Trish for this, and we invite you to participate, as these pics will show her under a light you have not seen her before on a canvas, and may not see her again. In fact, let us encourage her to do it again!
Join us tonight, 8 PM SLT. The tunes will be provided by our ever sensual, – and incumbent artist for just a few hours so RUSH to see her show if you haven't in the past 2 months! – DJ HaileyMarie Redrose. See you there!