Who's the exhibitionist featured this month ? Find out today, June 8th, at 8 PM SLT !! Okay okay, I am not making you wait that long!
This time it's the turn of Dax Rahl… I mean, good ol' Daxie! With, and it is the third in a row and I believe the fifth this year, a whole new, original exhibition! Wowzers!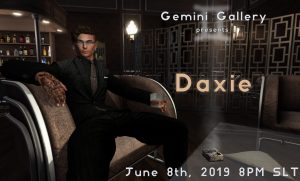 Daxie is a beloved personality in the 'porn' world, and it's so easy to see why once you know him. He has worked with plenty both as model (you can admire him this month in one of the most inspired sets at the "It's raining men" exhibition round at Forbidden Fruit) and as photographer. We are truly proud of the interest he expressed in our venue, and he managed to rally a selection of breathtaking beauties worth filling the gallery with! He did it in record time, too, and for sure of all the challenges being gallery curators brings, having suddenly a new batch of exclusive sexiness (you know, the word 'exclusive' should be replaced with 'inclusive' here! So many hot people involved…) to fit into our plans definitely is one we'd love to have more! We thank Daxie for all the patience and his humble attitude.
We expect him to puff his chest and strut his stuff though at the exhibition tonight! At 8 PM, with HaileyMarie Redrose playing her best retrowave awesomeness. Don't miss out! The wonderful Trish will be with us in the opposite gallery for another month, and we say bye to Ayela and her so very gorgeous and well thought out exhibition with a bit of a sad eye as it always happens – if you haven't checked it out yet, bring it on!