Oh my, a new exhibition at Gemini? Yes it is that time of the month, and this hot summer brings you something  totally smoldering AND that we have wanted for so long to happen. Ladies and gentlemen, please welcome tonight July 13 at 8 PM STL , at a big party Gemini-style the wonderful Anyka Aiséirí. Have I gotten those accents right ? Phew!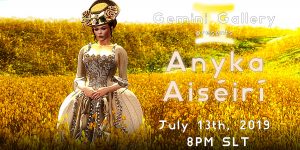 This gorgeous poster photo here is a creation by Athena Mariposa of Attention Magazine fame, and was Anyka's first choice. Athena whisked her away some time ago to take a picture out of pure inspiration after seeing Anyka sport this outfit. I adore the poster because it has it all:  I am fascinated by contrasts, and it truly excites me to have an exhibition so rich in physicality as Anyka's is – you know how uniquely expressive bodies are in her edits – …and introduce said exhibition with an image of her looking so serene in a field, all tightly laced up in an antique French dress! The dame from another time and the seductress who bares it all, both feel equally Anyka to me. Uniquely charming, elegant and well-read, but with so much to unveil, giving free rein to a vivid imagination we barely scratched the surface of.
Come on over and enjoy this exhibition, with some of Anyka's classics and several previously unseen pictures, where you'll see her push further the limits of what her editing skills can do and what sort of lewdness she made happen! At 8 PM SLT, with the party DJ'd being the one and only HaileyMarie Redrose.