It's time for another exhibition at our gallery! It comes close to the most beloved SL festivity, Halloween, and it's all in great spooky fun! Therefore, what better way to open it than with a costume party? Let your imagination run wild and be creative as you visit us at 8 PM SLT for the inauguration of Biarzenne Necro's Halloween extravaganza, The Biar Witch Project!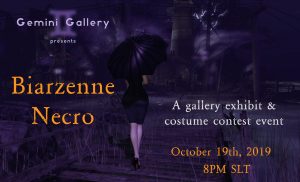 The expression "a long time in the making" fits it nicely, I'd say! Perhaps the one we have planned in advance the most. Talking with Biarzenne this spring during one of the many all-new all-original displays we have been so honored and lucky to provide this year, she expressed her interest in doing a themed exhibition as well. And she delivered in style. Even on one leg (she had quite a boo-boo that put her on crutches for the past months. You should come show her sympathy too!). There's so much to say about this exhibition, but I hope you'll swing by and find out by yourself: Biar did a conscious effort to give a little bit for every taste, and her Halloween display has a bit of gory and chilling, with plenty hotness because you do know we love erotic artwork! Come on over tonight for some tricks, but plenty treats.
Biar hasn't just been generous with her artistic performance (which also involved putting her personal touch to the decoration of the gallery, which should motivate you further to visit the installation in-world), but she also chose to contribute out of her bag of goodies to a costume contest for the party ! So come on over at 8 PM SLT and don't forget to dress up : there will be 2'000 L$ prizes for the best costumes and much more! HaileyMarie Redrose will be playing, and it's a great occasion to meet the artist and perhaps be a part of future installations. Don't miss out, even if you don't have a costume!