Got something planned for tonight November 16 at 8 PM? For our penultimate showcase of the year, a real treat with another selection of gorgeous models shot by someone with a keen eye who knows his way around a camera – and pyrotechnics! Just look at the poster! First time a rope is used THAT way in a picture for a Gemini exhibition…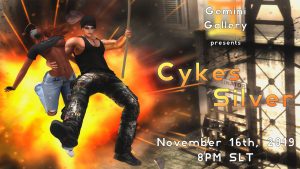 The heroic man from down under Mr. Cykes Silver is one of those artists who often shies away from the spotlight, which makes us twice as proud to be able to feature him and see him bring his photographic A-game to an exhibition like this. 25 original, never seen before pictures with different models amongst the sexiest on the scene, for a variety of shots, situations, and fantasies. Cykes is one of the most amicable and personable individuals you can meet, and you will love the way he highlighted the beauty of his subjects in gorgeous pin-ups and in rather more debaucherous visuals – after all, we love a good guy who is not afraid to spring up in action!
We are seriously beyond honored to see an artist again pull out all the stops to bring an entirely original showcase to our gallery. 2019 will wrap up with the vast majority of exhibitions being new, organic creations. We love the thought that these gallery shows have spurred the artists we admire to become open to the idea of having their work on display in-world for all to enjoy!
Join us for this opening today at 8 PM SLT, featuring the  tunes of the incomparable Sparklebottom Lasertits , the first one amongst our artists to do an all-new exhibition last year, and whose encouragement, example and mechanical-arm prodding greatly helped to reach this result. Enjoy!