July will be a month hot in every way here at Gemini! It is shaping up to be one of the busiest months in the life of the sim, with many exciting events. Speaking of shapely and exciting, join us today July 11th at 9 PM (yes that is one hour later than usual) for the opening show of our newest artist Isla Grace.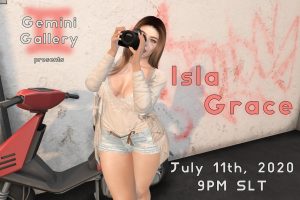 Our first exposure to Isla's gorgeous photography was years ago on SL Unplugged, the premiere quarterly adult magazine on the grid. Isla has been a driving force behind it for a long time (check the July issue!), and her contributions are not the kind you easily forget even at first sight. Displaying with no prudery well made sexual photos has always been a mission statement for our choices as gallery curators, and Isla shows the carnality of the act with unique…grace if you will.  Isla is charming in every way – as the many visitors of her successful sim Mature Doggers will tell you- and excels at capturing the beauty of a natural woman, through her words in the magazine articles, her craft as shapemaker and of course her pictures. This exhibition will feature different sides of her photography through work that is either all new and exclusive to Gemini – including several of her raunchiest work with some rather hot guys – or has been picked for display at Isla's own art gallery. You will find some of her more stylized work she experimented there, along with the patented cheeky pin-ups that make her so relatable and fun.
Join us tonight at 9 PM (remember, that's one hour later than our norm!) for a fun time with Isla herself, the sexy, curvy and multitalented DJ Zuby Gloom, and prepare for much more to come this month!