What's in store for the month of June? A new exhibition of course! And of the kind that thrills us  the most: someone debuting and that honored our gallery with a show of all-new, never seen before photos, made especially for the occasion. Let's gather tonight June 20th at 8 PM SLT for a show by Salathiell!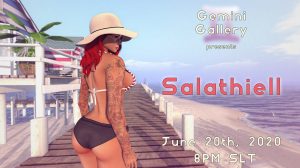 Sala has been a regular partygoer at our Gemini events and others from the Sexiest group. In our book she always stood out for her look and physicality, which she tends to underplay – never as much as she underplays her talents though! Sala has a very humble attitude, and does not carry herself like the artist we knew she is. We had chances before to admire her aptitude for posemaking, just to name one of her skills: in a way SL limits her, considering that she has an extensive experience with tools useful in digital art that can't be ported directly due to SL's way to handle (or not handle at all!) industry standards.  We ended up getting in touch with many more of her talents and quirks – such as the role shadows play! – these past months once she agreed to put herself on display. In this exhibition, with a couple dozen original shots, she shows her range with a variety of approaches, angles and formats – size matters in every position, I tell you! – featuring different models and herself in many sexual, sexy and just plain fun scenes, most of them taken at our own sim.
We're so happy and flattered to preset another fully original show. We consider it a dedication to the community and hope to continue to present artwork to you in the best possible way, enriching the enjoyment you'd have simply scrolling through shots on Flickr. Join us tonight at 8 PM with Sala, her models and naturally the DJ with the widest smile on the scene, the lovely Zuby Gloom, and let's have a great party together!