We are moving towards the end of the year, with two more exhibitions to go – oh but we do have some surprises in store, stay tuned! Our penultimate artist in our official rotation opens tonight November 14th at 8 PM SLT, and it's the lovely Annielle Destiny !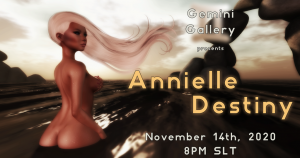 Annielle entered the world of erotic arts not much longer than a year ago, and she already made enough of an impact to be worthy of a gallery feature. There's never a dull moment with her but she's a true professional: she's bubbly, she's a smexy kitten who knows when to lick and when to scratch and purr, but first and foremost she is a driven artist who keeps honing her craft. Throughout her ongoing Body Language series, Anni finds new ways every time to let you hear the body talk ( she's not shy about getting physical!) through expressive pictures under a trademark dramatic lighting. The new photos she contributes to the gallery were devised following the concept and add more tiles to mosaic of this sultry suite. You will find on display several photos showing the playful and adventurous side of her, chronicling her adventures in the world of erotica.
I mean, there's butt cleavage and sideboob in the poster, it has to be good, right? So, join us tonight at 8 PM SLT! We'll party at the galleries with a very sleepy Annikins and have a good time sharing stories, admiring art, doing the all-around crazy stuff we do…with the beautiful tunes of the ever gorgeous DJ Zuby G̵l̵o̵o̵m̵ Bloom!