We have a rather busy December ahead of us, with several events taking place at the sim! And we are happy to lead with another exposition, no, a real expose on the sexy, unique, personable and most of all, yeetiful Stacia Reinoir! Starting tonight December 5th at 7 PM SLT !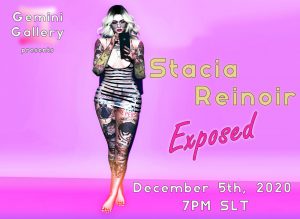 Our admiration for Stacia's art and journey as an artist is no secret, to the point that we have been hosting her permanent personal gallery for almost two years now.  Since its opening, the pictures have completely changed more than once, and this is one of those times when the complete rehaul of the photos on display just begs for a new party to celebrate it! Her affirmation of strenght and identity through her nudes, with her body often as canvas, has constantly drawn a lot of praise from visitors, and the occasion of a new opening party makes her always open up (figuratively…mostly) to draw more into her world..with surprising results we invite you to check out.
When? As I said, tonight of course ! We leave Stacia pretty much free reign in her gallery, so we absolutely deny any responsibility on unwarranted states of bondage, stages of nudity, and sore necks from the audience. Stacia's exhibition are more than just a picture display, the artist herself is on display in a sort of a live/living perfomance. Come on over and put your eyes on Stacia at 7 PM SLT, enjoying the tunes from the Mixtress herself Zoey Winsmore.