A new exciting adventure starts at the sim. Today at 1 PM SLT, the thick mist that engulfed the piers and twin galleries at Harvest Moon during the spring dispels, revealing an unfamiliar but quite spellbinding spectacle. The sign reads "Portocorvo"…a name whispered throughout the centuries all around the world. A port for the lost, a port that can't be found, for at most it will find you (is it in soviet Russia then?) . One constant: it is a port of crows, and they get fat.
We'd thoroughly enjoy to explore (aka, build together) with you the lore of the city in the future, but just for a quick explanation and OOC thank you: 3 years this month, Gemini moved its operations to the Harvest Moon sim. After such a long time in the same spot, and with a design that was our first enthusiastic effort decorating a whole sim, we felt it was time for a makeover. So many ideas were left for us to develop for a structure that was kept on purpose quite simple, but the truth is, that we had so many memories at the ground floor, and touching small but significant parts to expand and update the buildings would have been a slow and somewhat painful process. I am sure you can then figure out, with your empathetic understanding of our mindset I just provided you insight of, that we just went on and hired someone good to take care of all the heavy lifting, since it would have been such a pain in the arse to do it ourselves.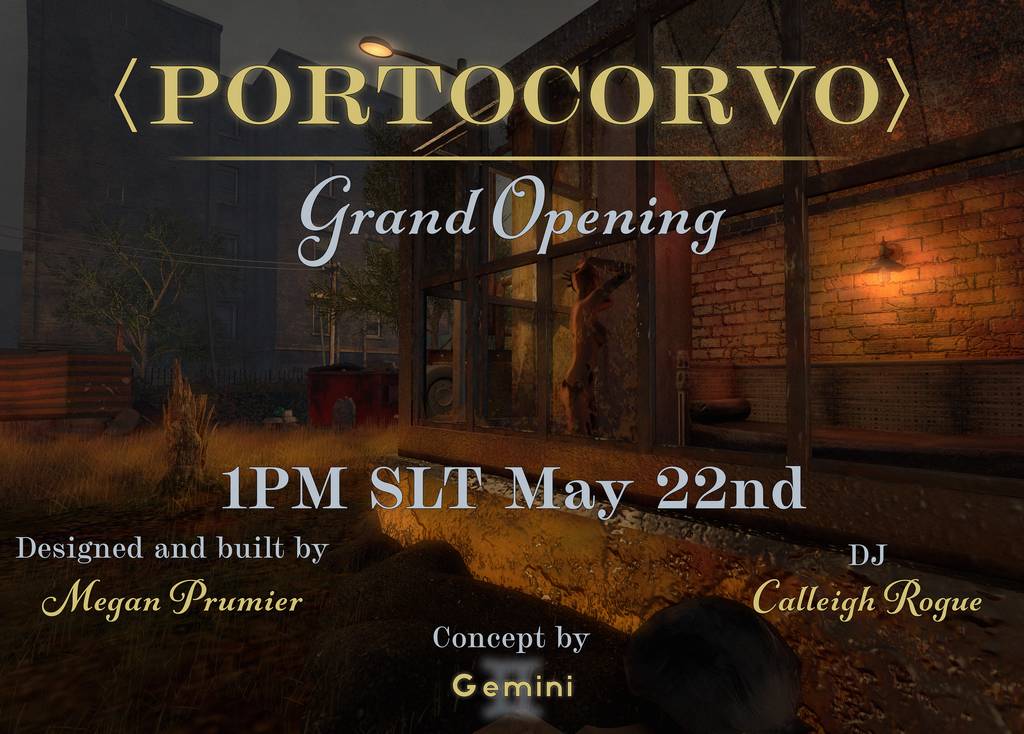 All jokes aside, we truly felt that we could benefit from the artistic view and expertise of a sim builder to bring fresh and pleasant aesthetics to the sim. Megan Prumier has always been a bit of a SLbrity , a well respected name in the world of art connoisseurs and explorers and purveyors of fine things in SL. She would make a fine choice to anyone with a goal like ours in mind, but it goes deeper than that. One of my very first memories linked to Gemini's inception in May of 2018 was in fact the visit to "A little bit of soul", one of the creations with Megan's footprints all over the place. The place couldn't be any truer to its name: there was such a loving attention to details in its elements, it blew my mind. It was never about the individual decorations used, pretty as they were, and many of which an indulgent buyer like myself already owned: it was the way she combined them, the vision she had: truly Megan puts soul in her designs. I placed a small set of music instruments in one of the conservatories at the old Gemini build, with still on my mind the exquisite ambience of one of Megan's settings with busking toolsat its core, and I smiled to myself thinking that maybe, just maybe, some day, we would bring some of that soul home at Gemini. So now, 3 years later, we took the opportunity of this planned makeover to finally strike a full-on collaboration with her bringing to life the city of Portocorvo.
The party will begin at 1 PM SLT. I can hardly imagine a more special way to kick in the sim than with a party DJ'd by the salacious…I mean saGacious Calleigh Rogue, which had the fantastic idea to set up a party on a rooftop location overlooking the city – and Megan has been so kind to put her builder hat on and indulge her. :p
Come on down for the party and let us enjoy the new location and party spot(s)! Portocorvo is meant to be enjoyed by visitors, photographers, explorers and all sort of fuckers who click on things and make them happen!