And one more! After last week's exhibition, today Saturday January 16th we bring a new artist for your enjoyment – and for our own, since she's absolutely fantastic! At 8 PM SLT, meet us at the galleries for a showcase of new brilliant creations from Trix !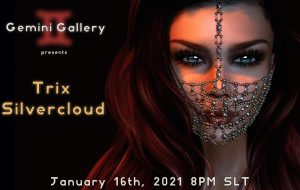 As a famous quote goes, "Life is a mask through which the universe expresses itself.". I don't know about the universe, but Trix surely did a fabulous job at expressing her sensual ingenuity playing around with a fascinating theme! Trix's images pop right away, begging to be explored in every amazing detail. And even with each detail shown in such pristine clarity, there's always a unique impalpable intrigue and mystery in each image, every display of iconic sensuality, every eye-catching bit of magic and quirk, in the secret stories of those who wear the mask of a prey and those who wear the mask of a captor . This is probably also the bit when you can flex your trivia muscles and say that "person" comes from the Latin for "mask", but we leave it as optional.
It's a true masquerade, and you are invited! Join us tonight at 8 PM SLT: if Aussies in disguise can do it, so can you, I am sure! Featuring the tunes of the ever lovely Zuby Bloom, it's gonna be a night to remember!