Join us today Saturday 9th at …4 PM SLT! What madness is this? Oh I'll tell you, but first let me get out of the way: it's an invitation to the exclusive and super-sexy Moni's Book Club, featuring the one and only Rssen Resident….okay, let's call her Monique LeFry!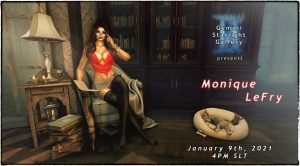 One of our favourite events last year was a very special presentation featuring our friend and regular at our parties Stacey Lucciano. A unique exhibition with a model as its focus, the event was planned with singular determination from her partner, Rachel Avro, who did one of the most remarkable jobs organizing a themed gallery we ever witnessed. As we put together the building for that show, we always thought it would have not been the last time we'd use it, since it lends itself to different kinds of exhibitions, outside our normal "twin galleries" rotation on the ground floor. So, here we are now, with the official inauguration as such of Gemini Starlight, a gallery that we can use for special showcases.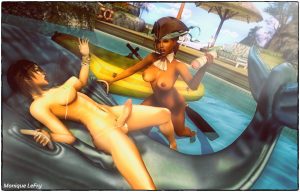 "Moni Dick" was the photo back in July that sorta sparked the idea for a "book club" themed exhibition
I won't say much about the exhibition itself, except that Monique has been without a doubt for the longest time the most important person in my SL, and a tremendous support in my RL as well. She did not get this showcase for this  reason though: "Moni's book club" was an idea that spontaneously came about after working on a photo together, and bouncing off ideas, with a mind to let Monique do what she does best: put the spotlight on the brilliant figure she shaped and that makes her such an excellent model, but at the same time also work with others and challenge herself as photographer. She has enormously grown (hmm…) as an artist (ahh…) in these years – her pin-ups are truly fine works – and she not ony put a lot of thought for these new original themed works, but also experimented new techniques for the editing putting extra effort to make this exhibition truly special.
So remember, 8̶P̶M̶ 4 PM SLT tonight, le't party with R̶s̶s̶e̶n̶, R̶a̶i̶s̶i̶n̶s̶, Moni and  with the lovely Zuby G̶l̶o̶o̶m̶ Bloom as DJ ! Let's embarass a Canadian !