Today at Gemini we open the exhibition of Iris Okiddo.
Iris's imagination is truly fascinating. She has a completely unpretentious and individual approach to art, ranging from dusky and moody photos, to the Sunday comic humor panels. She is a truly sensuous individual, and an amazing photographer, showing lots in her photos and yet leaving so much for you to discover.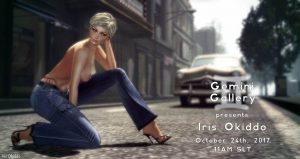 Come join us today for the party: Tuesday 24th at 11:00 AM SLT, with DJ HaileyMarie Redrose!
A new timeslot for this party: we couldn't pass up the opportunity to let you all meet Iris and share with her this special moment. Remember we welcome your feedback and partecipation, and we have some nice initiatives…and incentives, for that! See you at Gemini!