We have already welcomed the new year at Gemini with two of our weekly parties – if you have not visited, you are missing out! – but today it is the time to officially kick off the 2019 program with one of our biggest exhibitions to this day. Today at 8 PM SLT we debut with an exquisite display from someone who truly had a great impact on the adult arts world. Rachel Avro!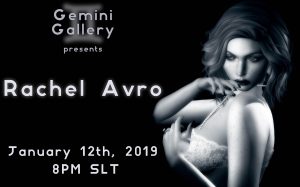 As a model and actress in SL, Rachel has always had a taste for the classic, timeless look Hollywood was built on in its golden age – everyone agrees on the beauty and class her avatar exhudes. This sensitivity translated so well in her search for identity as an artist, and it is not a coincidence that some of the most memorable and successful of her countless endeavours in the arts are projects that bring that sort of quality. This had to be a black&white exhibition!
True to her desire and to her natural inclinations she involved as many individuals as possible, planning ahead and working hard during the holidays to make this event on par with its ambition. With over a dozen different models in previously unseen photos, this gallery is a tribute to female beauty that shows how far along she came as photographer. We are truly proud to have on display at the gallery what is a labour of love, in more ways that one, since Rachel is living one of the happiest phases of her Second life and at every step she wants to remind us that  such an undertaking would have not been possible without the support and love of her quick handed partner Stacey.
Join us at 8 PM SLT for this event, which will have also a phase 2 in the near future that is very much integral to the project. Do not miss it! DJ HaileyMarie Redrose will provide the music.