Here's some updates from the sim on how this 2020 has been so far!
We have been enjoying our Friday parties, now often going in excess of one hour overtime – Zuby is having such a blast with her music that it just happens, and we are glad to have always new visitors and old friends coming over and staying for a nightcap. Just yesterday we had a wonderful Valentine's Day party with some swing that got everyone's feet tapping. Amongst other tapping I will be discreet about.
After an exceptional 2019, we gave our regular gallery rotation a break. resting during the holidays, and as planned we begin with a fresh start, featuring two artists closely related to one another – in fact they have been partners for years, and they truly blossomed into their artistic endeavours relatively recently – with amazing results. So their exhibitions open simultaneously, today at 8 PM SLT. We are talking about Jaquelyne Desmoulins and her partner Anne.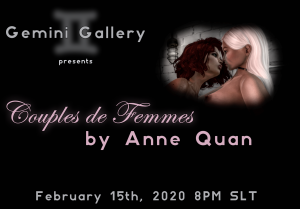 I instantly fell in love with Anne Quan's pictures. She may appear the quiet one of the duo, but when you compare her pics and Jaqui's in one of the not infrequent times when they collaborate on a project shooting the same subject, you'd think she's the -really- naughty one! Her "Diary of a cuckquean" and "The good wife's lessons" series have some of my favourite erotica shots of the past year, going both for classic shots with a vintage allure, and clever, explicit yet subtly arousing twists. And, she created in such a short time a wonderful new reality with a modeling group featuring some of the most beautiful girls of SL!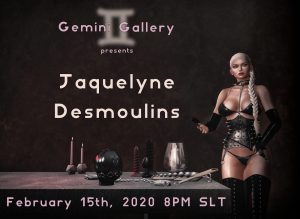 Jaquelyne on the other hand has been a flickrite for the longer time, but only recently she truly committed to it and got more in the spotlight. The driving force of her household, she is inexhaustible energy on and off camera, and of course I am referring to her constant support to other artists on the platform, were you thinking of something sexual?  Tsk tsk! Jaqui thought that before you anyway and chances are she enacted it! Jaqui brought to this exhibition a lot of sensuality on top of the raw sexual energy that inspires the other beautiful artists around her, and we had to exercise restraint to limit the appearances of her post-Sunday Gleeful Glutes. But it was not hard (ahem) to pick other favourites too, because she's got the right eye for sizzlin' hot!
Join us tonight, February 15th at 8PM to meet the artists and celebrate their talent. And the way we choose to celebrate, ça va sans dire, is with a wild party Gemini-style with our wonderful dj Zuby Gloom. Tm. Join us and let's have a blast! Oh! I haven't even mentioned the other projects we have going on right now but…stay tuned, right? A leap year gives us one extra day to be purrrty wicked!