It's time for a fun and sexy social gathering – the kind that seems possible now only on Second Life! We're going to jump into the future tonight at 8 PM SLT, and I can already see it: we'll be partying with Zuby's tunes to celebrate the newest exhibition at our sim! The man of the moment? Morgan Talbot, together with the whole colorful crew  of his Space Opera. If that does not ring a bell, stat by taking a look on the album with the previous parts of the saga, here! And check this out…!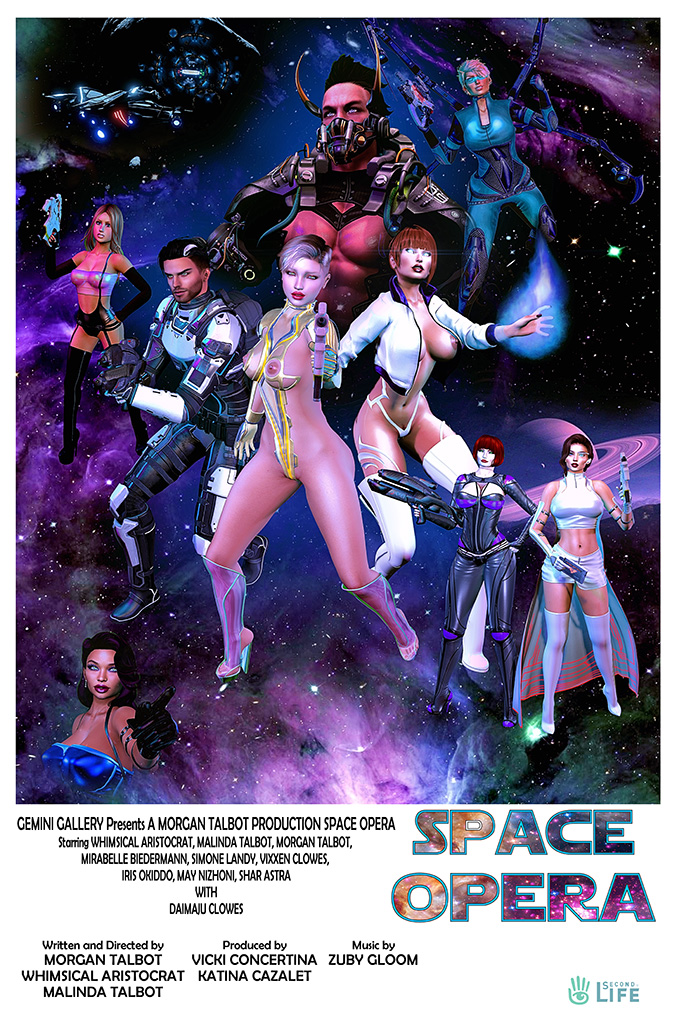 I think this epic poster here sums up better than anything how exciting the prospect of this opening is to us! After nearly 3 years of continued activity, the creativity of different artists still provides new challenges for us on how to adequately present the material in-world. Morgan' Space Opera is truly an epic space saga, a tale about space witches intended for adults, that will tickle your inner nerd with an involving story while titillates your senses with quality eye-candy. In the gallery, we needed to present each panel of the story as the glorious, perfectly composed and dynamic artwork it is, but also with a fixed order , and showing also the rich narrative that comes with it. Given the non-linear layout of the building, we had to reinvent the way the space is normally used. We also always wanted to make use of the possibilities the SL interactive environment offers, so the storyline can be viewed in world with each chapter close by the single tableau, but also as pop-up to check out in your browser clicking the image.
So, remember : today at 8 PM SLT, join us to celebrate the closing of a trilogy (not every space opera can do that right these days!) with new and exciting events to be announced! We don't set a particular dress code for the events as we know that a lot of you are into sci-fi  cosplay, others love to don the gown and tux for formal events, and we have plenty casual visitors as well who did not plan either. It'll be fun to see what you come up with, rest assured that you won't look out of place any way you choose to go with this! See you at 8.