Last time around, I mentioned the unique nature of the current exhibition, Space Opera. Today Saturday April 18th, here we present you another epic tail, I mean tale, but also tail, actually: it is the tale of the Bellisseria squirrel and our photographer for this month Evangeline Ling! Get ready for the party at 8 PM SLT for a rather nutty experience!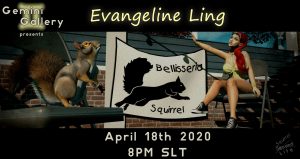 These days spending time at home is definitely en vogue, and SL-wise, there's no place to have a home like Bellisseria! Eva is a happy resident of the newest continent from Linden Labs, the one with all the fancy homes every Premium user wants. Bellisseria is a vibrant community now, not just somewhere with little boxes made out of ticky tacky to log in safely at. It is a gorgeous location with so many proud inhabitants and so much to do and going on!  You can learn a bit more through this link, but you will find that link amongst a few other extra features today at the exhibition – Eva will tour you through the various shooting location with a fun write-up going with each pic. We credit Eva with the idea of this set in full : she pointed out how the opening of the gallery would coincide with the celebration for the first anniversary of the continent, and had the crazy idea to shoot a whimsical adventure with a very simple premise and hilarious consequences as she shows off the beauty of Bellisseria.
So, join us tonight at 8 PM SLT! Both the photographer and the lead model will be there, and our ever wonderful dj Zuby Gloom will provide the tunes for another fun party, and probably one of the craziest and most elaborate exhibitions to set up to date. Boy, the next one will be easier, right?