February might be the shortest month, but it's especially crowded with events here at Gemini! Tonight it's time to have an all new artist at the gallery, debuting with a party today Saturday 16th at 8 PM SLT. It's the firecracker we call Cheryl Reddevil !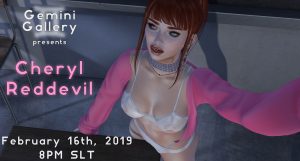 My fascination with Cheryl Reddevil is no secret! She has a way to flirt with the camera that is uncanny. Shameless and yet so whimsical, she is one of those photographers who instantly make you think "I want to meet this person". She's just so enticing. She provided in record time a series of never seen before pictures who truly express the essence of her eroticism and that we'll be so proud to unveil at the opening. We want to have this time memorable for her – she truly deserves it. She is pretty good at making memories herself, mind you. I remember her at the Fellatio Friday party we organized (she is one of the best in the discipline…photographically speaking of course!) and oh she livened it up quite a bit! But I digress…
We hope to see you all tonight at 8 PM ! HaileyMarie Redrose will start the dances, and we'll all have fun together. We. All. Do not miss it!