Today, our announcement has something a little different from usual! We do have a new exhibition on the sim, but it is more than that. It is a longer term project, and it is something we have flirted with for a long time. Join us today March 30th on the sim at 7 PM , for a great time listening to one of the djs with the most dynamic mixes on the scene, the wonderful Zoey Winsmore. The occasion? The inauguration of Stacia Reinoir's newest gallery.
And when I say 'gallery', I am not synecdoching (it is a word now), using the name of a building to indicate the exhibition hosted in there. Nu-uh, not this time! I am actually meaning the building itself too, as our sim is going to be the home for Stacia's Stories, the gallery home for Stacia Reinoir's works and artistic vision.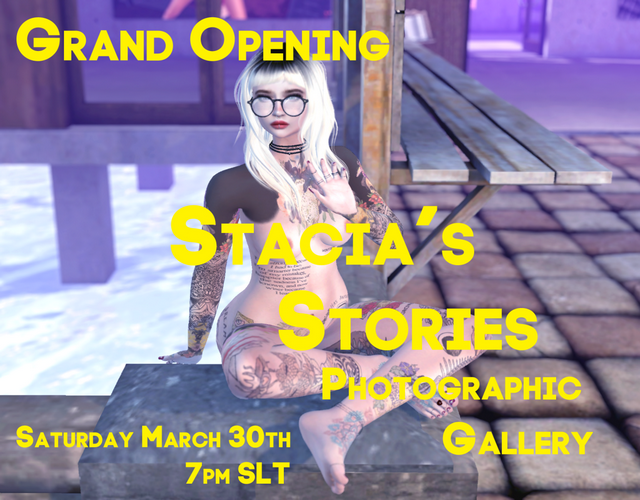 poster by Stacia Reinoir
We hosted exhibitions by stars of flickr who rack up more faves and views than she does, but Stacia's exhibition drew the most intriguing comments (I swear, we didn't pay those people to leave that kind of comment!). Amongst parallels with giants of art and photography I feel frankly shy quoting, but that picked up on beautiful qualities intrinsic to her composition, the comment I hold dearest came from an acclaimed SL photographer who just opened an exhibitionist at an history SL gallery a few days ago. She called it 'a feminist nudity, affirmation of strenght', which is the perfect sum of her greatest appeal.
We also got lovely reviews from a  few visitors who got a sneak peek of the new gallery building, but again, I wouldn't want to praise our own choices here! We do think that it complements well color and light choices of several of her studio pictures, without overwhelming those who take a more naturalistic (and not just naturist :p) direction. We believe it plays to the strenghts of the hopeless camera flirt that she is. But of course we want your opinion! So join us at 7 PM SLT with Stacia herself, to dance to Zoey's music and have fun !
Stacia's is not the only project of this nature set to happen in the next months, and we already in fact announced one in front of one of our biggest attendances a week ago, involving Rachel Avro. We enjoy so much building new venues and trying to imagine different ways to display art, study different approaches to the concept of presenting images in SL, both linked to specific artistists and to collective works.  If you have ideas for a collaboration, do contact Katina Cazalet and/or Vicki Concertina. Do it at the party tonight!